SUCCESS WITH WEB-TO-PRINT THROUGH INDIVIDUAL SOLUTIONS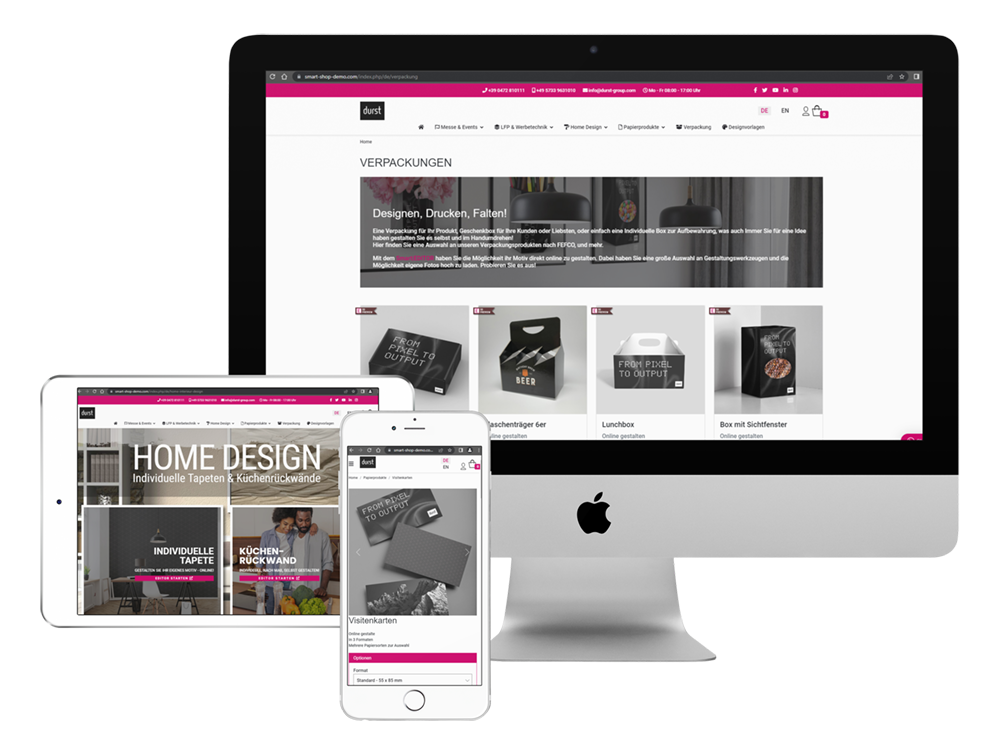 THE DURST SMART SHOP
The Durst Smart Shop provides you with the comprehensive premium solution for customisable print products. Give your customers the opportunity to design a wide variety of products directly in the browser and view them in real time - with the Durst Smart Shop in combination with the Durst Smart Editor.
INCREASE IN SALES
Achieve higher sales through new, more varied orders, with automated processes
BUILDING INDEPENDENT MARKETPLACES
Target group-specific addressing possible through modern template technology and predefined designs
MAXIMIZING THE CONVERSION RATE
Integrated online marketing analysis and control tools help you increase your conversion rate
SERVICE
IMPROVEMENT OF THE CUSTOMER SERVICE
With the Durst Smart Shop you are available 24 / 7. Interested parties can find out about your offer at any time. With the integrated Durst Smart Editor, your customers design individual print products around the clock.
We focus on the communication of customizable graphic content and variable sizes and shapes. In doing so, the store serves as a platform for simple and clear communication with your customers - misunderstandings are avoided.
We accompany you from the conception of your e-business to the design adaptation and the live launch of the store. In addition, we are happy to assist you as a partner in the area of online marketing and in the support of the store.
OPTIMIZATION
SUPPLY CHAIN OPTIMIZATION
Simplified access to products for your customers helps you optimize supply chains, such as simplified order entry and streamlined ordering processes.
The simple administration in the backend allows you to make changes to the store and your products yourself at any time. This allows you to react to current market trends at short notice and adapt your offer accordingly.
ENTRY INTO DIGITAL PRODUCTION
Use the Durst Smart Shop and Durst Smart Editor as your entry into digital production - we ensure seamless integration into both the Durst workflow and your own production environment.
OPEN UP A NEW LEVEL OF THE ONLINE SHOPPING EXPERIENCE
The Durst Smart Shop is a fully managed web-to-print solution for the wide format, graphics, labels, packaging and textile markets. Durst Smart Shop is scalable from a pre-configured web store to a customized e-commerce platform for different sales channels - B2C, B2B, retailers, franchises and marketplaces. Our store solution with a graphical online editor ensures the complete handling of personalized print orders and the sale of customizable products and services. From the online sale of products to the print-ready PDF file. With the Smart Editor, individualized products can be designed directly in the browser and visualized in real time without installing additional software. Developed by printing experts to promote online sales.


DURST SMART EDITOR
Durst Smart Editor is a graphical online editor that allows personalized print products to be designed directly in the web browser and visualized in real time. Enable your customers to get exactly what they want with real-time product customization. Text, images, colors and logos can be easily added; various templates and image databases are available to enable the design of sophisticated layouts without special knowledge. Give them the opportunity to visualize their designed products directly in your own online store using 3D and augmented reality previews, and receive their orders as print-ready files.



If you would like to receive even more detailed information about the Durst Smart Shop, please visit our Virtual Showroom: